Community Services
Water Department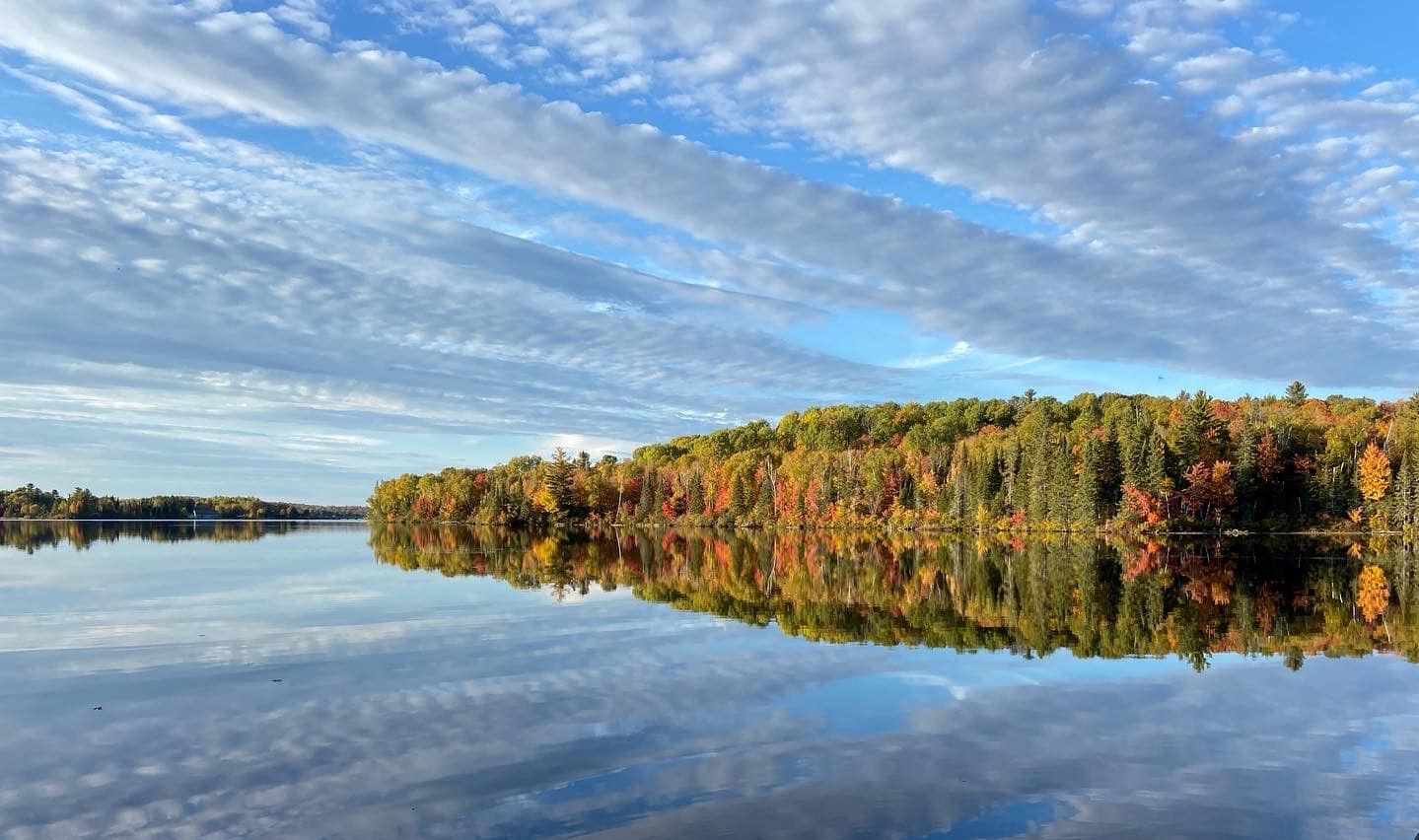 Water Department
Click on the following links to read the DRINKING WATER ADVISORY PUBLIC NOTICE and THE FACTS ON SODIUM IN DRINKING WATER.
The Village of South River has a municipal drinking water system.
General Facts:
There are approximately 500 customers of the South River municipal water distribution system in various billing groups.
According to the 2011 Census the population of South River has gone down from the year 2006 by 20 people, and we are now at a

population of 1,049

people. Prior to the installation of water meters, the population was decreasing, while our water use was increasing. The village has used 73601 m³ in the first 10 months of 2014 and current data suggests water consumption is decreasing since the installation of water meters.
The average consumption in Ontario is 13.5 m³ per person in a two month period, the average billing cycle
There is a naturally high iron content in the local water table. The South River was historically referred to as the "red river". Other communities face similar challenges with high iron content in their water which can cause a discolouration.
Administration:
The water budget must be revenue neutral. The Village of South River Water Department's revenues (money made) and expenses (cost) must be neutral (equal). This means the revenue has to equal the expense which creates a balanced budget ($0.00). Therefore, any capital improvement costs would be added to the user's water bills.
Water is billed separately from taxes because it is the water users who must pay for this service and not the tax payer. The Village can only collect the amount of money necessary to effectively run the water system according to provincial guidelines.
The OSWAP (Ontario Small Waterworks Assistance Program) has been discontinued. For several years, South River along with other small communities received $35,000.00 to contribute to the water budget. The loss of this funding had to be made up with revenue from regular water bills.
As a result of the billing by consumption, many residents now have lower bills!
More focus will be applied to water accounts with arrears. Appropriate notices will be sent to property owners with delinquent accounts and properties will be disconnected at the curb if payment is not received in time.
By-law #5-2014 enables the Village to transfer water arrears to the corresponding tax account. Properties listed for tax sales often include water arrears contributing to the overall amount of debt.
Grants are used for capital improvements when available, however the Village needs to be able to provide a percentage of funding required to complete the project.
The estimated current cost of replacing 1 meter of water main and restoring the road to a satisfactory level is $550/meter.
Maintenance:
OCWA (Ontario Clean Water Agency) is contracted to operate the water treatment plant and municipal staff maintain the distribution system.
The South River water distribution system meets all legislated requirements and is safe for consumption. Water samples are taken at the plant and various locations throughout the community regularly. Test results are available for viewing in the public binder at the municipal office.
Annual internal and external audits of the water system are conducted by an outside third party.
There are some properties that are prone to having the water line freeze during the winter months. If you have concerns about a frozen water line at your property, you must contact the municipal office to avoid incurring the expense of any extra running water to prevent freezing.
When there is a water main break, proper procedures must be followed to repair the leak. Regulations require locates be completed prior to digging, notifications to appropriate ministries/agencies and in the event the work is being completed on or near the provincial highway, mandated signage must be used and standards met for repairing the road surface.
Lead testing is done according to provincial regulations and frequency. Lead testing in our community has been found to contain less than .001 mg/L
In 2015, the Village of South River installed an additional loop in the water main between Roselawn Blvd and Eagle Lake Road.
The water distribution system is flushed annually as part of regular ongoing maintenance.
Billing:
Water bills are processed every two months
Consumption information is displayed on each water bill
Payment can be made by cash, cheque or debit at the municipal office, by E-Transfer or online with Kawartha Credit Union, TD, Scotiabank and RBC.
A credit in the amount of $0.85 is given for regular flushing of the water mains. It should take no more than approximately 500 litres to clear the average line. The cost per cubic meter is on avg. $1.73.
If you receive a leak notice in your bill that indicates your water meter has been running for a minimum of two consecutive hours. Leak notices are provided as a courtesy to customers only. No further information is available from your water meter to indicate where a possible leak may be occurring. It is up to the private property owner to inspect their own plumbing.
A minimum of 5 business days is required to request a final reading. A final reading may be required for the sale of a property or for tenants to receive the bill for a rental property. There is a fee for a final reading.
Landlords and tenants may request to have the water bill mailed to the tenant. An agreement must be signed by the property owner and the tenant. There is a fee to have the necessary final reading and to have the bill redirected to a tenant. Please inquire at the municipal office for more information.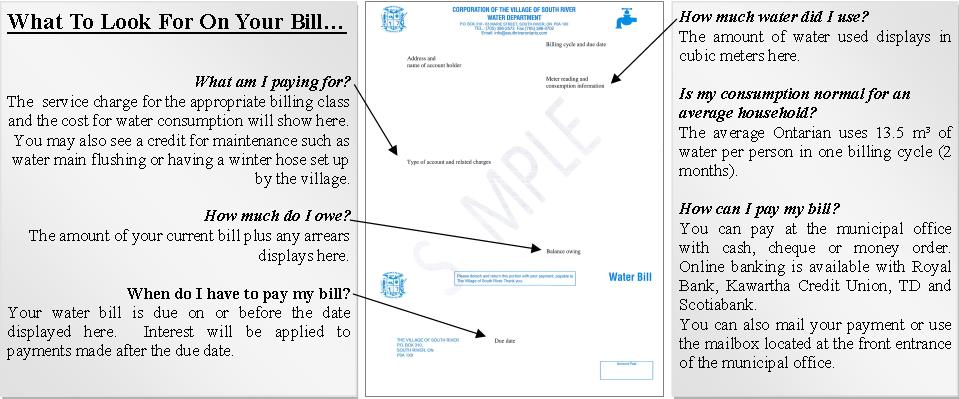 Pay your bill on time. By-law 5-2014 allows the Village to shut off the water supply upon default of payment. Arrears notices are sent to customers when applicable. In the event a water service is disconnected, there will be a fee of $51.12 for each occurrence when the water is shut off and again when reconnecting the service after payment is received. A deposit will also be required.
Please contact the municipal office if you have a question about paying your water account.
See the new 2023 Water Rates Schedule A & Schedule B
Last years 2022 Water Rates Schedule A, 2022 Water Rates Schedule B.
Household Tips:
Check the water coming into your washing machine before putting clothes in to ensure you aren't experiencing an incident of coloured water.
Pay attention to a leak alert if you receive one in your bill.
During the times when the water mains are being flushed, you may want to shower in the evening before flushing begins. Flushing takes place during the night, but may extend into daytime hours due to circumstances beyond the control of the village. Please plan your household tasks accordingly.
Once the flushing is complete, it is recommended to clean the screens on your taps and if necessary let a cold water tap run outside until any coloured water has cleared. You might also want to flush your hot water tank properly.
Clean your hot water tank regularly.
Carefully observe the consumption displayed on your bill and practice ways to reduce your consumption by turning off the tap while brushing your teeth, leaving a pitcher of water in the fridge instead of letting the tap run to get cold water, wash only full loads of laundry and dishes, wash your vehicle with a bucket of water instead of letting the hose run, collect rain water to use on your garden, install low or dual flush toilets and water saver shower heads, fix leaky plumbing, take shorter showers, use landscaping materials that don't require water (i.e. rock, mulch, etc.).
Did you know that approximately 65 per cent of the water consumption in your home takes place in the bathroom, mainly through toilet flushing and bathing (Environment Canada and Water Efficiency Master Plan).
If your home was built before 1996 (and you haven't changed your toilet), chances are your toilet is using 13 to 20 litres of water every time you flush.
On average, a person flushes the toilet five times each day, which means that approximately 65 to 100 litres of water per person per day is used just flushing these older toilets.
If you replaced your showerhead before 1996 and you haven't made any upgrades, your shower could be using up to 20 litres of water per minute. For a 10-minute shower, this means you are using 200 litres of water and one bath can use up to 200 litres of water.
Letting the water run while you brush your teeth could waste as much as 16 litres of water, water that is running straight down the drain (2 minutes x 8.3 litres/min).
One leaking toilet can waste up to 200,000 litres of water per year.
How much is a cubic meter (m³) of water? 1000 litres = 1 m³. (That's Approximately 4½ sixty gallon hot water tanks or approximately 6½ forty gallon hot water tanks.)
If you have a complaint about municipal water, please submit a Water Complaint Form
For information about frozen water lines, read the full Guide to Frozen Water Services
For more information about municipal water, please see By-law #5-2014 and the accompanying 2023 Water Rates Schedule A & Schedule B
Click to View the 2022 Annual Water Report
Click to view the 2021 Annual Water Report and here for the 2021 Annual Drinking Water Inspection Report
Click to view the 2020 Annual Water Report and here for the 2020 Annual Drinking Water Inspection Report
Click to view the 2019 Annual Water Report
Click to view the 2018 Annual Water Report
Click to view the 2017 Annual Water Report
These links are for the 2016 Annual/Summary Water Report, 2015 Annual Water Report or the 2015 South River Water Summary Report
To learn how to help protect Source Drinking Water click here
Drinking Water Advisory Public Notice
The Village of South River water contains high levels of sodium and while this does not pose a health threat to most individuals, it could pose a problem for those on reduced sodium diets who consume this water on a regular basis.
Boil Water Advisory Notice Commonly Asked Questions
If we are currently advising a BWA (Boiled Water Advisory), you can see commonly asked questions Here