News & Events
Emergency Alerts
Latest News

South River Watermain Rehabilitation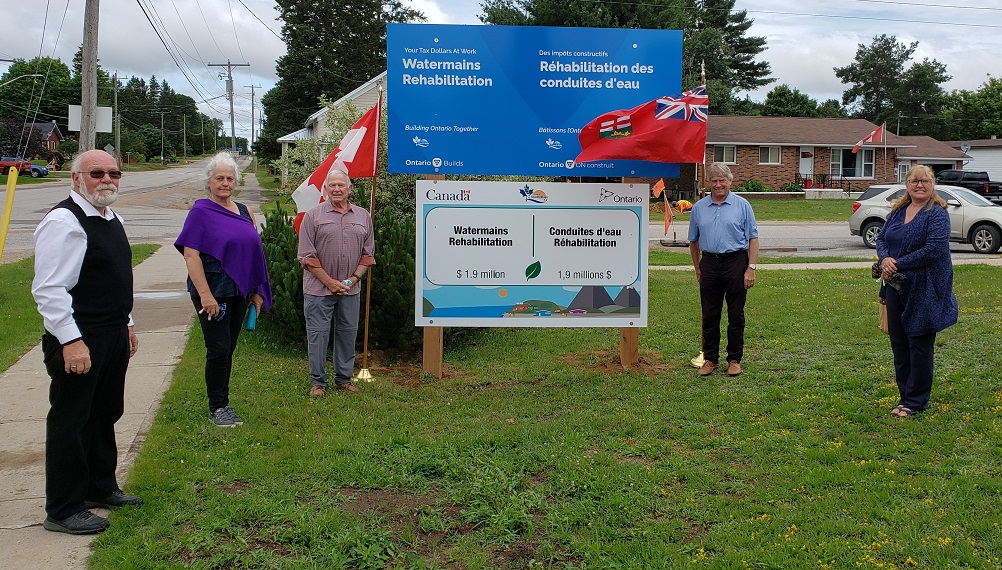 From left to right Councillor Doug Sewell, Councillor Brenda Scott, Mayor Jim Coleman, MPP Norm Miller and Councillor Teri Brandt.
July 7, 2021
South River Watermain Rehabilitation
The Village of South River is pleased to announce the South River Watermain Rehabilitation is being funded under the Investing in Canada Infrastructure Program – Green Stream by the Government of Canada and Province of Ontario.
This $2,695,000 project will replace two kilometres of deteriorated cast iron watermains with 8-inch PVC piping and the rehabilitation of the road surface and sidewalks.
The project is funded $1,049,760 by Federal funds, $874,713 Provincial funding and $699,927 from the Village of South River.
"This project will significantly improve our fire protection, substantially improve water quality and reduce the need for boiled water advisories in the future. We are very grateful to partner with the Province and Federal government on these much needed improvements." said Mayor Jim Coleman "We look forward to having the work completed by the fall of 2022"
"I am very pleased to see all levels of government collaborating to ensure the people of South River are suitably supplied with ample water," said Norman Miller MPP Parry Sound – Muskoka. "I understand this project will address some long-standing concerns with water quality and safety."
"The Investing in Canada Infrastructure Programs helps create strong and safe communities for families. This investment will support critical water infrastructure and road surface replacement in South River, guaranteeing safe water service to homes and a connected community for commuters." Hon. Patty Hajdu, Member of Parliament for Thunder Bay-Superior North and Minister of Health
---