News & Events
Event Calendar

Event Calendar
Springscapes Series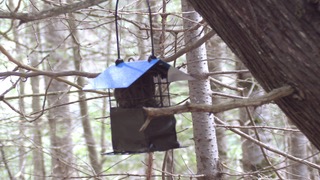 Sunday, May 28, 2023
NEW ADVENTURES IN SOUND ART Presents:
Springscapes Series
NAISA North Media Arts Centre, 313 Hwy 124, South River, ON
https://naisa.ca/festivals/springscapes/
April 13 to June 12, 2023
FOR IMMEDIATE RELEASE - SOUTH RIVER, ON – May 2, 2023: New Adventures in Sound Art presents its 2023 edition of Springscapes, a series of installations, workshops and livestream events that highlights the dramatic changes that take place in the natural soundscape as its transitions from winter to spring.
"The transformation of the natural soundscape from winter to spring is a distinguishing feature of the Almaguin Highlands. NAISA's Springscapes Series is inspired by this dramatic shift. For 2023, NAISA staff invites members of the local community to participate in a community recording project that provides the content for NAISA's Community Soundscapes exhibition. The sounds are updated weekly and played back on NAISA's multi-channel system, so that we can share the sounds of spring that are special to us." — Darren Copeland, Artistic Director, New Adventures in Sound Art
Community Soundscapes Installation and Recording Project
Running from April 13 to June 12, the Community Soundscapes installation surrounds participants with the sounds of spring using immersive recordings made by residents in the local region. The spring season is a special time of the year in the Almaguin Highlands as the snow melts, the ice breaks up on the lakes and the arrival of insects and birds is loudly announced by the sounds made by peepers. The soundscape of the installation is updated weekly to reflect sounds of the most recent weeks contributed by residents. For those interested in contributing to the Springscapes Recording Project, please email naisa@naisa.ca or visit NAISA (313 Highway 124 in South River) to make arrangements.
Reveil Dawn Live-Stream Broadcast
Listen on the Reveil Portal or on NAISA Radio
Reveil is a 24+1 hr internet audio broadcast on May 6/7 that follows the sunrise around the earth on International Dawn Chorus Day, traveling west on live audio streams sent in by live-streamers at daybreak from their locations. Reveil brings city yards, remote rural sites, fresh and salt water bodies into communication, creating a collective audit of planetary soundworlds over one earth day.
Soundscape Workshops
NAISA will be running a number of workshops that teach recording, editing and live-streaming. The annual soundscape workshop intensive will take place May 5 – 7, 2023. It will focus on both open microphone live-streaming and multi-channel soundscape mixing. NAISA will also be running a Soundscape Editing Workshop on May 28 in which participants can learn to analyze, edit and arrange soundscape recordings using recordings from the Community Soundscapes installation. All levels of Experience are welcome. Bring your own laptop or request to borrow one for the workshop.
New Adventures in Sound Art is a non-profit media art organization in South River Ontario that is funded in part by the Canada Council for the Arts, the Ontario Arts Council and the Department of Canadian Heritage.
What: Springscapes https://naisa.ca/festivals/springscapes/
Where: NAISA North Media Arts Centre, 313 Highway 124, South River
and online at https://www.naisa.ca/naisa-radio/
When: April 13 to June 12, 2023
Cost: Variable (see event details)
---